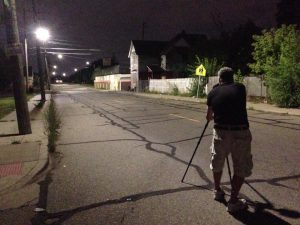 Bio
Bill Schwab's career as a photographer and publisher now spans over 3 decades with work in many private, corporate and museum collections around the world. He has been a pioneer in the area of online representation and branding of his photographic art having successfully managed a worldwide collector base for many years as well as consulted with other artists and galleries on the subject. In addition to his work as a photographer, through his North Light Photographic Workshops, he facilitates classes in several photographic process a year at his northern Michigan facility as well as leads expeditions of photographers to Iceland, the Faroe Islands and more. Bill is also founder and host of the "Photostock Festival", an annual gathering of photographers, collectors and enthusiasts for workshops, reviews, presentations and demos.

In 2005 he founded North Light Press with the intention of independently supporting and publishing the work of emerging as well as established photographers and has published several successful titles to date. Recently launched under his North Light Press label is a new series titled the "11+1 Signature Series", a series of small run, limited edition books that contain 11 reproductions and 1 original print. Each case bound book is signed and numbered by the photographer in an edition of only 100. There are now 10 books in this series that is continually growing and includes titles from past Critical Mass, Top 50 photographers, S. Gayle Stevens, Clay Lipsky and Anne Berry among others.


"Schwab's images are haiku-like in their stillness and scale"

Jerry Herron, Metro Times
CV
Education
1983 Bachelor of Fine Arts - Central Michigan University
1983 Extended Studio Session (Summer) - Glasgow School of Art - Glasgow, Scotland
Selected Solo Exhibitions
2017 Detroit: Where We Used to Live - Viewpoint Photographic Center, Sacramento, California
2016 Detroit: Where We Used to Live - Charlotte Hale Gallery, Toronto, ON.
2013 Bill Schwab - Liggett School Gallery, Grosse Point, Michigan
2009 Bill Schwab - Camerawork Gallery, Portland Oregon
2009 Silver Gelatin - Dylan Ellis Gallery, Toronto, Ontario
2008 Bill Schwab - Paul Paletti Gallery, Louisville, Kentucky
2006 Elemental: New Works - Soul Catcher Studio, Santa Fe, New Mexico
2005 Gathering Calm: Photographs 1994 - 2004 - Halsted Gallery, Birmingham, Michigan
2005 Gathering Calm: Photographs 1994 - 2004 - Gallery Lumiere, Seoul, Korea
2003 Iceland - The Halsted Gallery, Birmingham, Michigan
2000 Lyrical Landscapes - The Barry Singer Gallery, Petaluma, California
1999 New Work - The Halsted Gallery, Birmingham, Michigan
1998 Shadows of Legends: The Great Stadiums, 20th Century Fox, Culver City, California
1986 The Landscape - Paint Creek Center for the Arts, Rochester, Michigan
1985 Urban Landscape - Detroit Public Library, Detroit, Michigan
1984 Bill Schwab - IBrowse Gallery - West Bloomfield, Michigan
Selected Two-Person* and Group Exhibits

2017 Trace - Central Michigan University Gallery, Mt. Pleasant, Mi.

2016 Reflected - Paul Paletti Gallery, Louisville, Kentucky
2016 Photostock Ten-Year Anniversary - Three Pines Gallery, Cross Village, Michigan
2016 Iceland - Bullevant Gallery, St. Louis, Missouri
2015 313 - Detroit Artist's Market, Detroit, Michigan
2015 Mundane, The Scarab Club, Detroit, Michigan
2015 Gorgeous Nothings, Three Pines Gallery, Cross Village, Michigan
2015 Breaking Ground, Andrews Hall - William and Mary College, Williamsburg, Virginia
2014 *Black and White, Three Pines Gallery, Cross Village, Michigan w/Ken Kewly
2014 Antiquarian and the New Alchemy, Serenbe Photography Center, Palmetto, Georgia
2012 The Alchemists - Lonsdale Gallery, Toronto, Ontario
2011 Tenth Anniversary Show - Paul Paletti Gallery, Louisville, Kentucky
2010 *Wet Plate Collodion - Paul Paletti Gallery, Louisville, Kentucky w/ Paul Taylor
2010 Robert Frost - Crooked Tree Gallery, Petoskey, Michigan
2008 Darkness Darkness: An Exhibit of Contemporary Night Photography, The Art Complex,
Duxbury, Massachusetts
2004 Ritual - Detroit Artist's Market, Detroit, Michigan
2003 Iceland - The Photography Room, Grand Rapids, Michigan
2002 The American Landscape 1865 - Present - The Halsted Gallery, Birmingham, Michigan
2001 Summer Selections - The Halsted Gallery, Birmingham, Michigan
2000 Detroit Focus 2000, Shriner's Center, Southfield, Michigan
1986 Detroit Artist's Market, Detroit, Michigan
1985 Tigers! - The Michigan Gallery, Detroit, Michigan
1982 Select Photographers - Detroit Focus Gallery, Detroit, Michigan
Books
1999 Bill Schwab: Photographs
2005 Gathering Calm: Photographs 1994-2004
2012 Belle Isle
2013 Waterside
Representation
Commercial Representation has included the following:
The Halsted Gallery, Birmingham, Michigan; 1994 - 2008
Stephen Cohen Gallery, Los Angeles, California; 1994 - 1997
Barry Singer Gallery, Petaluma California 1999 - 2008


Tao Gallery, Hong Kong 1997 - 2008
Gallery Lumiere, Seoul Korea 2005 - present


Meter Gallery, New York NY 2000 - 2015
Dylan Ellis Gallery, Toronto Ontario 2008 - present
Permanent Collections
Detroit Institute of Arts
George Eastman House
University of Michigan Museum of Art
Kresge Art Museum

Kalamazoo Institute of Arts
Cincinnati Museum of Art
Akron Art Museum
Bibliothèque Nationale de France
Polk Museum of Art
20th Century Fox

Royal Caribbean

MGM Grand