In the Workshop
———-
It's said that the beginning is the most important part of the work and I've been working the better part of two years now to get this studio in the north of Michigan ready. I've been wondering if I'd ever get beyond all it takes to construct the space and get on to the work for which it was intended.
Finally, I've gotten there and with the three workshops scheduled during Photostock2015, the place was nearly at full potential. There were the usual, organizational issues faced when moving into a new space, but those I've found fun. With each class, we were able to work out the kinks and things ran more smoothly by the day. Every instructor had very helpful suggestions and I was fortunate to have them here to help out. Even with all the advanced planning, It isn't until you actually start working in a space that you realize what's needed to get a comfortable and productive workflow going.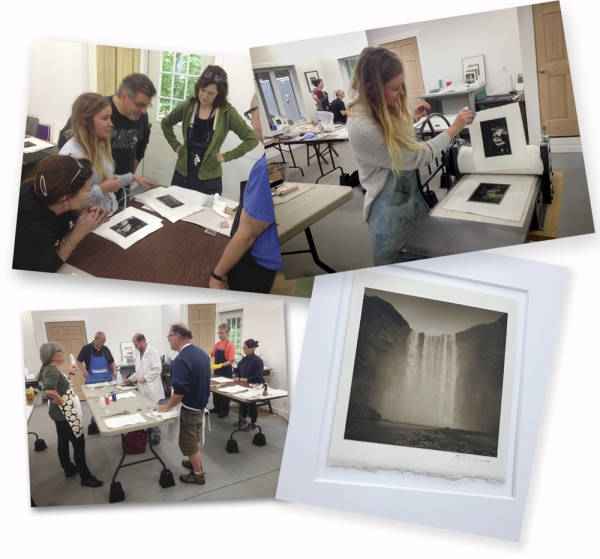 Upon completion of the festival and courses, I was soon to find the joys of having such a space in which to work. The place
was ready to go and I was able to delve into several processes at the same time. Never have I had that luxury and I have to say that the last month has been one of the more productive times in quite awhile. Perhaps not since school have I had so many creative tools at my disposal at one time and I am very excited about where it has taken me so far. The successful palladium print offer last month was just the beginning. I've been crossing processes, toning papers prior to printing, using pigment and gum layers with palladium to add richness to the final images and more. All things that have been difficult, if not impossible, to accomplish due to prior lack of space. It's all new now and I am very excited about where it will lead both my work and that of others that come here.
With all this in mind, I am adding this new section to the blog and periodically updating you on what is going on around here. Who's visiting, what's being made, planned courses, etc. Now that we have moved out of the construction phase and the rewards of the second Kickstarter are almost completed, it's time to get on to the business of learning and creating and I am very excited to move ahead.
For more information on upcoming workshops and tours, please make sure to get on the list at the following URL. You'll be among the first to know of new opportunities.
North Light Photographic Workshops
www.northlightworkshops.com